Euromillions £1m winners thought they had scooped £8.20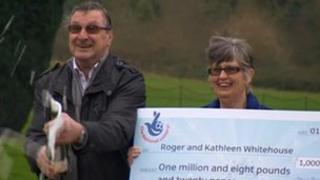 A couple who scooped £1,000,008.20 in the New Year Euromillions lottery draw thought they had only won £8.20.
Roger and Kath Whitehouse from Minehead, Somerset, said it took them a while to realise how much they had won.
Mr Whitehouse bought the ticket on New Year's Day immediately after being released from hospital where he had been treated for a heart condition.
"We're going to buy a new bungalow and he's going to get a new car and look after the kids," said Mrs Whitehouse.