Somerset teacher, Keith Ruby, jailed for 10 years for child abuse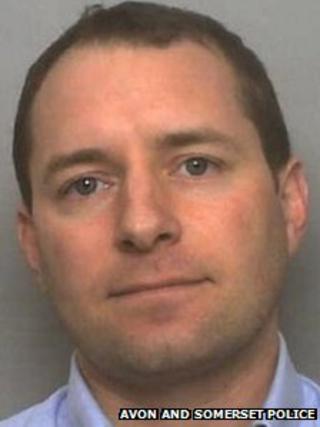 A former teacher and rugby coach at a Somerset school has been jailed for 10 years for child abuse.
Keith Ruby, 36, of Biddisham Lane, Axbridge, was convicted at Taunton Crown Court of 16 counts of serious sexual offences against a teenage boy.
During sentencing, Judge Graham Hume Jones, said: "You abused the trust of a young boy and the trust of his parents, and you brought shame on them."
The school has said all the necessary safeguarding checks were made on Ruby.
The judge said Ruby was regarded as an "ardent and enthusiastic" sports coach who encouraged the boy in his favourite sport.
He said: "But you did this to indulge your sexual interests with this boy. In his evidence, the boy used the phrase "hero worship" to describe his relationship with you.
"Having gained his trust you then gained the trust of his parents."
The court heard the boy's family was "duped" by Ruby who entrusted their son into his care outside school for rugby matches and an overseas trip.
'Completely distraught'
He said: "It is not hard to imagine how this boy's family feel after being duped by you.
"He worshipped and trusted you, and lied to the police to save your skin.
"Even then you met him again and abused him."
A spokesman from the school has said: "Our safeguarding procedures, both now and at the time of these incidents, are completely compliant and all necessary checks on the suitability of Keith Ruby to work with children were carried out by the school.
"However, unfortunately no vetting system can guarantee that every paedophile is identified."
Ruby will be placed on the sex offender's register for life and will never work with children again.
Det Ch Insp Richard Kelvey, from Avon and Somerset Police, said: "Keith Ruby is a manipulative man who insinuated himself into the lives of this victim and his family.
"He regularly sat at their dinner table and was welcomed into their lives as a trusted friend, teacher and coach to their son.
"His betrayal and abuse has left them completely distraught."
Mr Kelvey added that it took several years before the victim felt able to disclose the abuse he had suffered.