Frome £10m medical centre is opened by group of GPs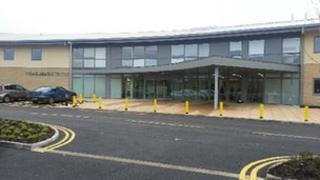 A £10.5m medical centre funded by five doctors and offering primary care to about 28,000 people has been officially opened.
Partners at the Frome Medical Practice took out a bank loan in order to avoid using Private Finance Initiative funding or government help.
GP partner, Dr Mark Vose, said: "It's been 12 years trying to get the finance behind it and planning and organising."
It will house 30 GPs, 120 health professionals and a mental health team.
'Integrated way'
"We're very fortunate we have got a big practice list, we've got 28,000 patients which gives us the finance and organisational ability to really make things different.
"I think this is the way future healthcare will be delivered. I think it will be primary care-centred and we're all committed to this idea that we should work in an integrated way and work together," added Dr Vose.
Each doctor contributed £100,000 to secure the £10.5m bank loan and will each carry the financial risk.
The mortgage will be paid for over a 28-year cycle by renting out the rooms and facilities to the NHS and private health companies.
Private health providers include physiotherapist, chiropractor clinics and a plastic surgeon who will carry out both private and NHS-funded operations at the operating theatre.
The NHS will rent out rooms at the Enos Way site to house the Somerset Mental Health Partnership team and GP practices will rent out their respective space.
The Friends of the Frome Community Hospital have donated £80,000 to pay for equipment in the operating theatre.
'Very lucky'
Three surgeries in Frome, Park Road, Saffron Surgery and the Fromefield branch of the Beckington practice will move into the new centre.
Loxhill Surgery will remain at its current base, as stipulated by the NHS as part of the conditions to build the new centre.
Senior partner, Tina Merry, said: "I think Frome needs a facility and Frome is very lucky to have a facility like this.
"Our old health centre buildings were very tired, we were running out of space. We had nowhere to put new services and this facility means we can bring a lot more healthcare to Frome."