Tarr Steps to be rebuilt following river damage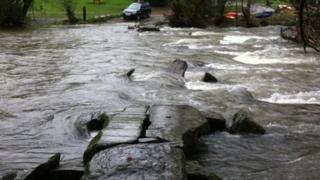 A 50m-wide (164ft) bridge at a Somerset tourist attraction will have to be rebuilt after about half of it was washed away by a swollen river.
The Tarr Steps on Exmoor are made of stones weighing between one or two tonnes each and many were swept away by the River Barle on 22 December.
Stones have been washed away in the past, but this is believed to be the worst damage in living memory.
Somerset County Council said it would rebuild it once the river level falls.
'Absolutely shocking'
Rob Wilson-North, conservation manager for the Exmoor National Park Authority, was there when the stones were washed away.
"It was the speed of the water, it was absolutely terrifying, it was moving so fast," he said.
"I've worked on Exmoor for 20 years and I've never seen it like that.
"For me, it was absolutely shocking to see it like that."
Each slab was numbered following previous floods so they can be put back in the right order once recovered.
The exact age of the bridge is unknown, with several theories claiming Tarr Steps date from the Bronze Age, while others date them from around 1400 AD.