London 2012: Chard boy's torch continues Olympic spirit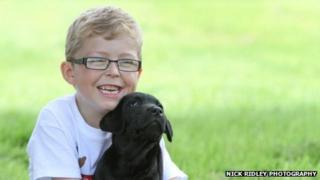 It may be 2013, but the spirit of London 2012 continues to spark interest as a six-year-old's Olympic Torch is still raising money for charity.
Like many children, Logan McKerrow from Chard, Somerset, made a replica of the Olympic Torch when the flame travelled through his county.
At the time, when his mother Kerry told him torchbearers were selling official torches on eBay for charity, he asked if he could sell his paper version as well.
After it sold for £21, his grandfather had the idea of turning it into its own torch relay.
Luckily, the man who won the bid agreed to relist it.
£30,000 raised
Since then, it has been resold 36 times and travelled 5,503 miles (8.8km) across the country to places including Wolverhampton, Shropshire and Dorset.
The torch and Logan and his family have now raised £30,000 for his chosen charity, Hearing Dogs for the Deaf People, which marked its 30th anniversary in 2012.
The money raised has paid for one puppy - called Logan - to be trained and work for a family.
The highest individual bid has been £2,050.
"It's fantastic, I can't get over it," said Mrs McKerrow.
"The Olympic legacy inspired Logan and it was all about inspiring a generation however this has inspired loads of generations."
It has also inspired his uncle who is not going to shave or have his hair cut for the entirety of 2013 as part of an effort to raise money for the charity.
'Bit crumpled'
Mrs McKerrow and her mother also raised £2,026 visiting businesses in Chard where people paid to have their photograph taken with Logan's torch.
"It's a bit crumpled and I think each torch bearer expects it not to be in as pristine a condition as what it was when it left us as but it's kept its shape. It still looks like the same thing, but yeah it's wearing well," she said.
The torch is currently in Hertfordshire - however it will soon be on its way again as its latest listing is due to end later.
Logan said his ultimate torchbearer for it would be the Queen while Mrs McKerrow said she will continue to relist the torch until there is no more demand for it.
When it reaches this point, it could be said that that is when the Olympic spirit - which the country embraced so fully - finally runs out.