Birnbeck Island fishermen refuse lifeboat hope in rough seas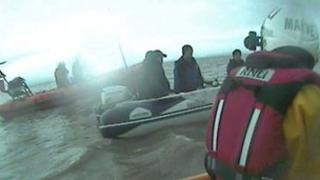 Fishermen who ventured into dangerous seas in the Bristol Channel in a dinghy refused help from the lifeguard because they wanted to carry on fishing.
The coastguard said it had to be on standby for two-and-half hours until the men agreed to come back to shore.
The two Weston-super-Mare crews were called out after several 999 calls reporting of a small vessel apparently in trouble near Birnbeck Island.
Three "poorly equipped" men were found on board but refused any help.
Both lifeboats were launched at 14:30 GMT on 29 December.
"To make matters worse the weather forecast was dreadful," said an RNLI spokesperson.
"A gale was due to arrive within a few hours and a small dinghy in the Bristol Channel would have had little chance under such circumstances.
'Refused help'
"They had come from Clevedon and were poorly equipped.
"They only had two lifejackets which were not being worn, no flares to summon help and no VHF radio to communicate with the coastguard."
The spokesman said the men "refused the help of the lifeboats and insisted on continuing to fish".
Swansea coastguard then allowed one of the lifeboats to return to station but kept the other lifeboat standing by until the fishermen agreed to try to land at 17:00 GMT.
Andrew Stone, RNLI helmsman, said: "It is important that anyone going to sea understands the risks and how to prepare for them.
"A mobile telephone is no use when calling for help or in communicating with the rescue services."