Somerset barn owl project nears nest box target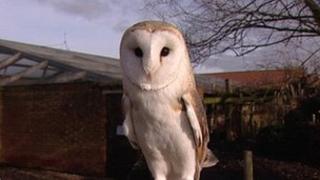 A project to put nest boxes in every parish in Somerset to help boost barn owl numbers has neared its target.
Since the scheme started in March, Somerset Wildlife Trust (SWT) has so far put up 200 boxes out of its overall target of 365.
Chair of the trust Eve Tigwell said each site had to be assessed as there was no point putting up a box where "there's nothing for them to feed on".
SWT has been working with the Hawk and Owl Trust on the project.
In Somerset, it is estimated there are 100 pairs of barn owls but numbers are struggling due to a lack of food.
"The trouble is they are beginning to lack not just nest sites but food and that is really the most important thing out in the countryside," Ms Tigwell said.
"What they feed on is mostly voles and voles don't like having their grass mown all that often."
At some of the sites, wide margins of rough grass have been created near nest box sites to ensure the owls have enough voles to feed on.
The charity has also said it has a long queue of landowners and farmers who are waiting to join the scheme.
The project has also been supported by the environmental charity Viridor Credits which contributed £83,000 towards the costs.