Somerset flood fund helps 190 households in the county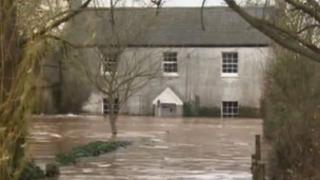 A £50,000 flood-support fund has helped 190 households since it was set up last month by Somerset County Council.
The fund has been administered by Somerset Community Foundation (SCF) which is also raising its own funds to help flood victims.
Justin Sargent, from SCF, said: "We've been really pleased to get just a little bit of support out to people who've been affected."
Homes in Somerset Levels, Cannington and West Somerset have benefited.
'Quite surprised'
"We've been quite surprised how many people have written to us to say they haven't got insurance because they are in a flood-risk area and it's just too expensive for them," added Mr Sargent.
The charity has also widened the scope of its annual Surviving Winter Appeal to help those affected by the flooding.
Normally the appeal, which has raised £50,000, helps elderly people affected by fuel poverty.
This money has been handed to 12 local charities which will distribute the grants.
"At the moment we think we've got enough money to help people who've been flooded and meet the demand from older people who we normally help with the costs of keeping their homes warm during the winter but it's getting tight," added Mr Sargent.