Homes in Somerset are flooded as river bursts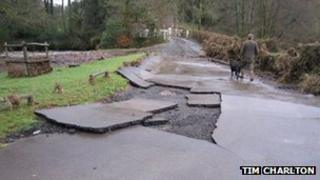 Several homes and businesses were flooded after the River Barle in Dulverton, Somerset, burst its banks late on Saturday.
The Bridge Inn, a garage, workshop and beauty salon were among the properties flooded.
Rachel McDonald, the pub's owner, said there was "lots of mud everywhere" and said the river had been blocked by a fallen tree trunk.
"We took what we could upstairs and watched the water come in," she said.
Mrs McDonald said they had rescued tables and chairs from the pub along with children's toys.
"We had about 4ft of water and were probably the worst hit in the village," she added.
"We had to close the whole pub at about 8.30pm - people were eating and we had to get them out.
"It's all hands on deck now. We're just working from the back of the pub and hope to be open in the next few days."
Peter Hounslow , from Acorn Antiques, said the water levels rose "very quickly" and caught people "by surprise".
But he said locals would help those affected by the flooding.
"It's a small place and everybody knows each other so there's a good spirit of helpfulness."
There are currently nine flood warnings in place across Somerset.