Cheddar Gorge's main road at risk of 'significant danger'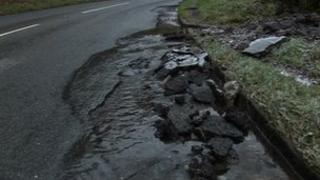 Police in Somerset are warning of "significant danger" on the main route through Cheddar Gorge after heavy rain and flooding.
The B3135 has been closed for several weeks due to bad weather, however some drivers are ignoring the warning signs, said Avon and Somerset Insp Nick Hunt.
He said safety was a priority and urged drivers to "use common sense and find alternative routes".
It is not yet known when the road will reopen.