AgustaWestland jobs saved after Sea King contract approved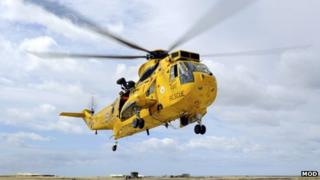 Hundreds of jobs have been safeguarded in Somerset after the Ministry of Defence announced a deal worth £258m to upgrade search and rescue helicopters.
The deal means AugustaWestland will continue to build Sea King helicopters until 2016, when they are set to be decommissioned.
About 500 jobs will be protected, most of which are at its Yeovil plant.
Joe Conway, the site's Unite representative, said the announcement had "cheered everybody up".
Mr Conway said although the company was the "favourite" to land the deal, the staff "weren't expecting the announcement quite so soon" as the MoD has a "shrinking" budget.
"We're breaking up for Christmas today so it's a nice going away present," he added.
The helicopters are used by eight search and rescue teams, including the RAF Valley where Prince William is a pilot, as well as the Royal Navy and Royal Air Force fleet.