Paul Keene cleared of fiancee murder but guilty of manslaughter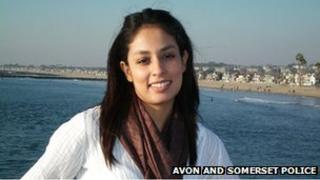 A father has been convicted of killing the mother of his newborn child.
Paul Keene, 32, was convicted of the manslaughter of his fiancee Carmen Miron-Buchacra - a charge he admitted. He was found not guilty of murder.
The court heard Keene strangled Carmen, known as Gaby, and the attack was captured in a voicemail message on the phone of a friend.
He will be sentenced at Bristol Crown Court in the new year.
Mr Keene, an administrator for a financial services firm, and Miss Miron-Buchacra, 28, were planning to marry in her native Mexico in the autumn of 2013.
The PhD student was found dead on the bedroom floor of the couple's first-floor Georgian flat in Bath by emergency services on the night of June 23 this year.
The court heard the pair had argued about him staying out late with friends and she told him not to bother coming home.
Punched and choked
Mr Keene returned to the flat in Bennett Street at 22:30 BST and Miss Miron-Buchacra phoned his friend, Ben Jones, asking him to take Keene back to his home in Chippenham.
The friend later realised there was a harrowing eight-minute message on his mobile phone that captured an argument between Keene and his partner.
He could hear that Miss Miron-Buchacra was crying and screaming.
The recording, which was played to the jury, ended with the sound of her being punched and choked, followed by silence.
In a police interview, Keene said that when he got back to their flat Miss Miron-Buchacra started throwing things at him and scratched him while he held their baby daughter Eleanor, who was then just 11 weeks old.
He told the jury he had no memory of the incident.
He said: "I don't remember a great deal.
"During that whole night I don't have any particular memories.
"I have got still images of bits and pieces, but I have no recollection of times or what I was thinking at the time."
A post-mortem examination revealed the new mother had been strangled.
Speaking outside court, Detective Inspector James Riccio from Avon and Somerset Police said: "Following the death of Gaby Miron-Buchacra we conducted a thorough investigation and charged Paul Keene with her murder.
"Over the past few days the jury has been presented with evidence and, having considered it, returned the verdict of not guilty to murder.
"However, it is important to note that Keene has been convicted of manslaughter and accepted responsibility for the death of Gaby."