Burnham Carnival date change criticised by Bridgwater club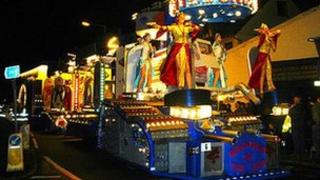 A carnival committee has been criticised for moving its event forward so that it is held the day before Somerset's biggest carnival.
Traditionally, Bridgwater Carnival is the first event of the Guy Fawkes carnival circuit.
Now Burnham carnival will move to the first Friday of November.
It said it decided to change the date because of a lack of income from this year's event. But a rival carnival club said it was a break with tradition.
Burnham carnival is currently held on the Monday, a week after Bridgwater's event.
Phil New, the chairman of Burnham Carnival Committee, said the group wanted to move to a weekend day as this year's takings were down £2,400 on last year. He added it was not financially viable to hold the event on a weekday.
'Break in tradition'
He said: "The reason we had to move is due to the lack of income at last year's carnival and we have made no secret of the fact that we, as other carnival towns, have realised that a mid-week carnival is no longer viable in the current climate."
John Holliday, from British Flag Carnival Club in Bridgwater, said it would affect people's holiday, fuel and the hire of generators.
"Bridgwater has always been the first carnival; Bridgwater is classed in this town as the home of carnival as far as the Guy Fawkes [Circuit] is concerned, so it would mean a break in tradition.
"There's lots of traditions within that tradition - squibbing, the walk up parkway, when the carts arrive - all those sorts of things is where it all starts."
Bridgwater Carnival organisers said it was up to Burnham carnival to do "what they think is best for the future of their carnival".