Naomi Thomas spreads wedding joy despite cancer battle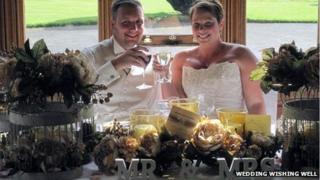 Naomi Thomas organises weddings for people with terminal cancer. A condition she shares with them.
"I have secondary breast cancer. It's at a stage where there's nothing else they can do for me apart from treat it as no cure," said the 30-year-old from Wellington in Somerset.
"They will just try and keep me alive as long as possible until it does spread again to a vital organ and that'll be the end of me."
The mother of one was diagnosed with secondary cancer six days after her son Devon was born in 2010.
The average survival of this type of cancer is five years although the maximum that has been reported is 16 years.
"You don't know until it spreads. Once it spreads, it will be a very quick end," she said.
Mrs Thomas was first diagnosed with breast cancer three days after her partner Graham proposed in 2009.
After a spell of chemotherapy, she was declared cancer free so the couple decided to start a family.
"I felt like we were being rewarded with a healthy baby and life was going to be getting a lot better," she said.
'Feel this excitement'
"We were home for six days when I was lying in bed one day having a rest and my back started to spasm."
An ambulance and firefighters were called to help get her out of the house as her back was so bad that she could not bend to get down the stairs.
Once in hospital, she was diagnosed with MRSA having contracted it from having a caesarean. A full body scan was carried out to see what the source was, however it also revealed a tumour in her spine.
The financial strain of having cancer meant that they could not afford to get married.
A wedding planner in her home town of Sidmouth, Devon, heard about the couple's situation and offered to organise their wedding for as little as possible by getting people to donate their services.
Three years after getting engaged, the couple married in June 2012.
"I was overwhelmed with the enormous generosity of all who helped to make my wedding a perfect day and it was made even more special knowing that without their support, it simply would not have happened," said Mrs Thomas.
"I thought, I used to work as a wedding planner before my diagnosis and I can do this for other people.
'Great times'
"I want others to feel this excitement and to feel what it is like to have a wedding day before it's too late and they pass away so I started my charity."
In 2013, the charity - Wedding Wishing Well - will start accepting applications for weddings having spent the latter part of 2012 raising funds and compiling a database of suppliers who can help.
Flyers will be put up in hospitals across the West Country.
In February, Mrs Thomas will hold a Valentine's masquerade ball as well as other fundraising events and treats.
"People that have been to my events will know that I don't do things by half. I like to do things to the best of my ability and to really wow people and I hope this will do the exact same thing," she said.
While Christmas is tough, it is New Year's Eve which is the hardest thing for Mrs Thomas to get through.
"Everyone is out celebrating the fact that they've had a great year and that they're moving on to another year and they can make a fresh start but for me, I don't know what that holds.
"It could be bad, it could be good. I don't know if I'll see another New Year's Eve so I don't tend to celebrate those."
But she added: "Although I've got my illness hanging over me, since my diagnosis I've been having some great times and I would say that 2012 has been by far the best year that I've ever had.
"My illness gets put to one side and we don't worry about it. Being able to help people have the weddings of their dreams has been fantastic."