Minehead's Regal Theatre to reopen after refurbishment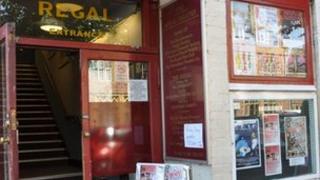 The Regal Theatre in Minehead will reopen to the public later this month following a £300,000 refurbishment to help improve public access.
A meeting was held on Monday to assess the progress of the project.
It was decided that it will open in time for this year's pantomime, with the first performance on 29 December.
Improvements include a new entrance and the addition of a lift. However, a spokeswoman said the lift would not be in operation until the end of January.
The community theatre had campaigned for 15 years to get the project started.
'Temporary accommodation'
A theatre spokeswoman said volunteers were now being trained to use new equipment and a big clean-up operation was under way to ensure the venue opened on time.
"However, there will still be some elements of the project to finish off after the panto is over," added Elaine Ross.
"Unfortunately, the lift will not be in full operation and it will not be possible to accommodate people in wheelchairs for the panto.
"The box office will also not be fully ready to operate in the theatre and will for the time being continue in its temporary accommodation at the Methodist church opposite."
Full completion of the project, and the full commissioning of the lift, is expected by the end of January.
The Regal Theatre was built in 1934 as a 1,600-seat theatre and cinema.
Funding for the refurbishment project was given a boost in June when it was allocated £50,000 by West Somerset Council.