National Grid are quizzed on plans for Somerset pylons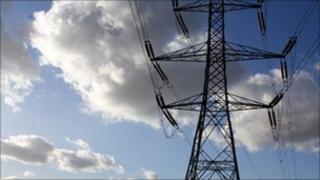 Somerset could be getting a string of new pylons if plans for Hinkley Point C nuclear power station are approved.
The electricity cables will be needed to connect the station with Avonmouth in Bristol.
The plans have caused controversy and confusion amongst Somerset's residents.
The National Grid's David Mercer, major infrastructure development manager, and Richard Walsh, planning and environmental project manager, were quizzed by BBC Somerset listeners on the proposals.
The pylons' route
Many questioned the pylons' route, asking why it was going over the Levels and the Mendips, a designated Area of Natural Beauty (ANOB).
Mr Walsh said many options were looked at in its Strategic Optioneering Report.
Explaining the controversy surrounding the route, he said: "We're going where there isn't anything there and that focusing people's attention."
He said the company had tried to keep to the line of existing pylons however where it was encroaching on properties, it tried to keep them away.
The Levels
As the pylons would cross the Levels, Barbara Strong from Yeovil was concerned about whether there would have an impact on the Levels' ability to drain water away.
Mr Walsh said the pylons would need bigger foundations however they would work with the landowners who understand the area more, helping to find the best place to put them.
Mr Mercer said the National Grid would work closely with the Environment Agency and the Internal Drainage Board so that the pylons would not have an impact.
Underground v overground
BBC Somerset presenter Emma Britton asked why they were not able to go underground to cross the Levels, particularly as they were going underground on the Mendips where the terrain is rockier.
Mr Mercer said from an engineering point of view, they could go underground across the whole route however cost was the principal reason why they were not proposing to; to build underground it costs £16m per km (0.6 miles) while overhead costs £1.8km per km.
"It is enormously expensive to underground such a high capacity, high voltage power line. Those costs go through to consumers' bills so there has to be a balance," he said.
He added that faults on an overhead line are easier to find and repair.
Many listeners asked why underground was not an option because planning permission was not needed however Mr Mercer said all substations would need it and "no-one would want National Grid to be short-circuiting this process."
Undersea option?
Mike Young from Burnham-on-Sea asked why the line could not run undersea up to the Bristol Channel using fibre optic cables.
Mr Walsh said of the options they looked at, six of them were for sub sea. He said although they were not without their technical and environmental challenges, cost was the main issue as it would cost about £700m more than the current proposals.
However, Mr Young said as this option was not consulted on, people were not able to decide if this was an option they would want to pay extra for.
Pylons' size
Maggie Gregory, from Pylon More Pressure, said although she accepted the nation needed power, the plans include "giant power lines" which would be much bigger than the current ones.
Mr Mercer said that was the case, however there were many lines of this type currently around England and Wales.
However Ms Gregory said: "It's not acceptable, it's too bulky. It makes a huge community impact and the National Grid do not factor this into the cost."
Follow M5 route?
One listener asked why the lines could not run underneath the M5.
"The annual cost per household would be 75p. If this is correct, it's hardly the cost of a first class stamp. A pound is negligible and to protect the landscape, it seems to be a no brainer," he said.
Mr Mercer replied: "Fuel poverty is a real issue in the UK and every penny and every pound on electricity bills does make it difficult for some people to supply electricity into their homes.
"It's a very difficult balance - it comes down to how much as a country we want to pay for our electricity, how much our industry wants to pay for electricity and then protecting the landscape."
Mr Walsh added that as there were some properties near to the motorway, this was not a viable option.
What if the nuclear power station is not approved?
Mark Collins, of No More Pylons, asked what would happen if the government did not approve Hinkley Point C.
Mr Walsh said: "Hinkley is a catalyst but it is required for a whole host of other infrastructures as well.
"If any circumstances change, the first thing that we would do is go away and look at that case and say 'do we still need to do what we need to do here but perhaps on a different timescale'?"
The consultation on the draft route closes on 18 December.