J24 cattle market in Bridgwater gets health centre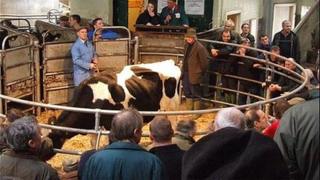 A health centre has opened in a cattle market in Somerset with the aim of encouraging farmers to see a doctor.
The room at J24 Auction Centre in Bridgwater will allow farmers to take advantage of screening programmes, as well as a drop-in clinic.
Farmers are known to be a high-risk health group who do not always see a doctor.
The centre will be open on market days, and will have different screening programmes run by different charities.
Bowel screening and general health checks are some of the programmes scheduled at the centre over the next month.
Katherine Mead, the managing director of the auction centre, said: "Farmers are so busy, they don't really work to a clock. The animals are their clock.
"For a farmer to get changed and go to a doctor's surgery or even a hospital takes a good couple to three hours each day which he needs to use for his livestock."
Bridgwater Agriculture Society has contributed £5,000 towards the centre.
Chairman Steve Adams said: "Farmers are well known for neglecting their health issues. Now there's a health room at the market, hopefully they will make full use of the services on offer."