Lottery grant could help buy Bath Roman coin hoard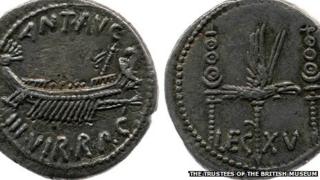 A £50,000 lottery grant could help keep a hoard of Roman coins in Bath.
The Beau Street Hoard of 20,000 silver coins was discovered by archaeologists in 2007 and is thought to be the fifth largest find of its kind in the UK.
Some of the coins date back as far as 32BC and are currently being cleaned at the British Museum.
The initial support from the Heritage Lottery Fund could lead to a further £480,000 grant in 2013.
Bath and North East Somerset Council said it wanted to develop learning and community activities around the hoard.
A mobile roadshow would visit towns and villages around Bath and the coins would then eventually be displayed at the Roman Baths.
Richard Bellamy, of the Heritage Lottery Fund South West, said: "The Beau Street Hoard is a wonderful discovery.
"It has the potential to develop our understanding of one of the most fascinating periods in the history of Bath."