West Somerset Council may share more services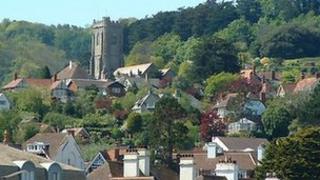 England's smallest district council is to examine sharing services and bringing in private companies in a bid to save money.
A government report recently raised concerns about West Somerset Council's viability after it was revealed it was losing £100,000 a year.
The authority, which has 35,000 residents, has already outsourced street cleaning and legal services
The council also says a large council tax rise is possible.
Conservative council leader Tim Taylor said: "The model we are looking at will keep local democracy and locally-elected councillors liaising with local people.
'Lengthy process'
"We are looking to contract out services to other councils and to other organisations to get the benefit of value-for-money from those organisations."
Mr Taylor said the idea of the council being shut down would not solve problems in the short term.
"That would be a very lengthy process - possibly two to three years - involving the Boundary Commission consulting not only West Somerset Council and its people but the council and its people of the other areas," he said.
Independent councillor Andrew Hadley said they were "still taking in" what the outsourcing plan meant.
"It would mean an awful lot of redundancies and I would rather try and save jobs. The council is in dire straits," he said.
Mr Hadley blamed the current situation on cuts by central government but said the plan should be examined.
"Personally I wouldn't agree to that being the only option but would agree to investigating it," he added.
About a third of West Somerset's residents live in Minehead, but much of the authority's 280 sq miles of coast and countryside falls within Exmoor National Park.