Somer Valley Food Bank 'overwhelmed' by volunteer help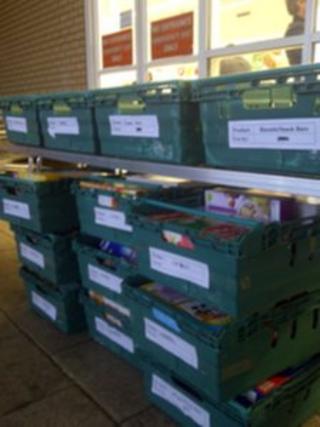 A charity which is due to open a food bank in Somerset has been "overwhelmed" by support from volunteers.
In October the Salvation Army appealed for 100 helpers for the service which is aimed at people in Midsomer Norton and the Radstock area.
Since then, 150 people have attended an open event and offered to help at the warehouse or with food collections.
The Somer Valley Food Bank has already been given the three tonnes of food it needs to launch on 8 January.
"The support has been tremendous," said project coordinator Joy Fraser.
"We also got a good response for our distribution centre team as well.
"Those are the folks who will work closely with the clients who come in for the food. It has been fantastic."
'Hidden hungry'
Schools, churches and other organisations have been collecting items such as pasta, rice, soup, biscuits and cereals during the autumn.
A volunteer supermarket collection in Midsomer Norton saw members of the public donate almost 1.5 tonnes of food in two days.
"I think people are concerned about the recession and have seen in the media about the hidden hungry that we're talking about," Ms Fraser added.
"It's everywhere. There is deep deprivation everywhere. Bath itself is finding poverty it didn't know it had. Other wealthy places, they all have food banks."
The free emergency food parcels which the food banks will give out are designed to last for three days.
The parcels are given out via referrals from registered care professionals such a social services, schools and churches.