Somerset church bell to ring again after agreement reached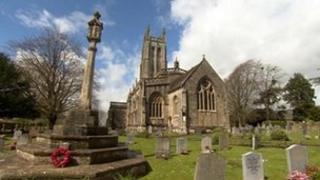 A church clock that has chimed for decades will continue to be heard after a legal threat was lifted.
North Somerset Council issued a noise abatement notice against All Saints Church in Wrington, to stop its clock chiming between 23:00 and 07:00 GMT.
It followed complaints by a number of residents who said the chimes every 15 minutes kept them awake.
But despite complaints being withdrawn, the notice stood. An agreement has now been reached for it to ring hourly.
The quarter hour chimes will stop at 22:45 GMT, a spokesman said.
The silencing of the bells at the 15th Century church angered some villagers, and the complainants said they did not wish to pursue the case any more after the adverse public reaction.
Computer program
The clock had to be silenced completely because the automated mechanism did not allow it to be turned on and off.
However, the chimes were started again in April after a computer program enabled them to be stopped between 23:00 and 07:00 GMT.
But now the council said an agreement had been reached with the Parochial Church Council to limit the clock to chiming hourly overnight.
A spokesman said: "North Somerset Council and Wrington PCC are very pleased to announce that the case relating to the chiming of the church clock at night at All Saints Church in Wrington, which originated with a noise nuisance complaint, has now been amicably resolved.
"The process of resolution was conducted carefully and diplomatically by both sides.
"They are very pleased that a solution has now been found.
"As a result the hourly bell will continue to ring the hour during the night, and the quarter hour Westminster clock chimes will not sound after the 10.45pm chime until 7am.
"The bell and clock chimes will continue to sound as normal at all other times."