Bridgwater's West Quay wall stabilisation work complete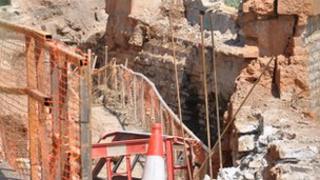 Work to stabilise the partially-collapsed West Quay wall in Bridgwater, Somerset, has been completed.
The wall collapsed in November 2011, moving 20ft (6m) from the quay and dislodging 600 tonnes of masonry.
Nineteen properties alongside the River Parrett were evacuated when the wall developed cracks after heavy rain.
The £3.5m worth of repairs was jointly funded between Somerset County Council, Sedgemoor District Council, the Environment Agency and Wessex Water.
There are still some structural repairs to finish, which were temporarily delayed by recent extreme weather conditions and high water levels on the River Parrett.
The repair project involved the removal, restoration and replacement of the stone, as well as original items such as mooring rings and bollards.
3 December, 2012: This article has been updated following further information from Somerset County Council