Hinkley Point nuclear station: Licence granted for site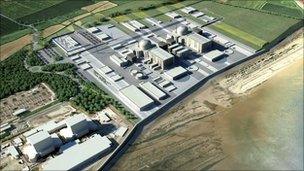 The first nuclear site licence for 25 years has been granted to Hinkley Point in Somerset.
The Office for Nuclear Regulation (ONR) awarded the licence to NNB Generation Company (NNB GenCo), which is handling the bid to build new reactors.
It means the company has developed the required plans, procedures and structures to build a new power station.
The government still needs to give the go-ahead before it can be built.
NNB GenCo, a subsidiary of EDF Energy, is also waiting on a permit from the Environment Agency.
Both decisions are expected before the end of the year.
ONR said it spent the equivalent of 6,000 days assessing whether the company was suitable and capable, at a cost of £8m, which NNB GenCo will pay.
HM Chief Nuclear Inspector Mike Weightman said: "Granting a nuclear site licence enhances our regulatory control of the activities associated with designing and constructing nuclear facilities.
"NNB GenCo will now be required to comply with 36 conditions attached to a nuclear site licence.
"These conditions provide ONR with the necessary regulatory powers to ensure the protection of people and society from the hazards associated with such nuclear power generation."
A nuclear site licence for a power station was last granted to British Energy in 1987 in relation to Sizewell B in Suffolk.
Related Internet Links
The BBC is not responsible for the content of external sites.