Somerset floods: Warnings remain after heavy rain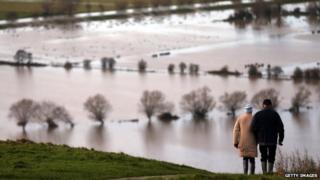 There are warnings water levels across Somerset could continue to rise over the next 24 hours.
The warnings are mainly for areas along the Rivers Parrett, Tone and parts of the River Yeo.
Homes and businesses have flooded and there is concern that Tuesday will be worse as water drains from the Levels.
The rain is still having an impact on the trains, with services between Taunton and Exeter continuing to be replaced by busses.
'Waste of time'
Rail services have also been cancelled between Taunton and Castle Cary and between Yeovil and Exeter.
On the roads, the A361 remains closed due to flooding at Burrowbridge and Cheddar Gorge is closed.
In Cannington, residents have blamed flooding on a failed flood prevention scheme built in the 1980s by the Environment Agency (EA).
Northbrook Road in the village has been flooded twice in the past three days.
District councillor Ian Dyer said: "They designed a flood relief scheme and it was an absolute waste of time - it's half a job.
"It helped a little bit but they didn't design it right and my father said at the time they had two floods within three months of building of it.
"If they asked the locals how to build it, it would have been OK - instead they got someone from away in, who didn't know the local geography."
The EA said it would send out a team to investigate.
Homes, businesses, roads and farmland continue to flood across the county.
Suzanne Llewellyn, from North Curry, said she felt as if she had lost her home and business - West Country Firewood - overnight to flooding.
The water started coming in at 16:30 GMT on Sunday. By 18:00 it was a foot deep (0.3m). They moved out to a hotel only to return on Monday morning to more water.
"It is worse and it's going to get a lot worse," she said.
"The Environment Agency has told us that Tuesday morning will be the critical morning for the [Somerset] Levels so we anticipate it getting a lot worse. Even if we don't have rain, just that area is going to fill up with more water."
She said they were prioritising by finding their children somewhere to stay and moving the animals. After that, they are at a standstill until the water recedes, which could take a month.
'Pretty scary'
Also affected is Conor Doherty, from Norton Fitzwarren, who has had his home flooded three times in five days.
His living room furniture has been moved to the landing upstairs while his washing machine, fridge and freezer have been moved to a bedroom and his kitchen table is on bricks.
"I'm pretty gutted," he said. "We're kind of resigned to the fact that this has got to be it for a little while and we'll have to see what happens next before we can start putting things back together.
"It is pretty scary, you just feel so helpless with it. There's nothing we can do - we can't hold back nature so we've just got to sit and wait.
"You become obsessed with river levels and looking at where the level was last hour and where it'll be in the next hour so it takes over. It's rather consuming."
In Cheddar, the White Hart pub was flooded with spring water.
Manager Matthew Wilson said: "Normally the river is no higher than my knee, but now it comes to my shoulder and I'm 6ft 4 (2m)."
He added: "It's completely clear spring water - if it wasn't on the floor already, it is actually safe enough to drink."
Drain away
Fifty homeowners were told to evacuate their homes in the Autumn Mews area of Worle, Weston-Super-Mare, as water was pumped away when a large pond overflowed.
Avon Fire and Rescue Service said it received 32 flood-related calls on Sunday evening.
The Environment Agency has downgraded warnings for the River Isle from Chard Reservoir to Hambridge, Winford Brook at Chew Magna and River Chew from Chew Stoke to Keynsham.
Jim Florey, from the agency, said rivers were now beginning to recede.
He said the area giving most cause for concern was the Somerset Levels. He said there was concern for more low lying areas as the water begins to drain away.
Flooding Minister Richard Benyon said he had asked for a report into flooding in Somerset.
The enhanced content on this page requires Javascript and Flash Player 9
Map Key
Land
Cloud
Lakes, Rivers & Sea
Fog
Light
Heavy
Frost
Light
Heavy
Pressure Fronts
Cold
Warm
Occluded
Rain
Light
Heavy
Extreme
Snow
Light
Heavy
Temperature tab only
Temperature (°C)
More details from BBC Weather