Parking charge at Royal Victoria Park to stop commuters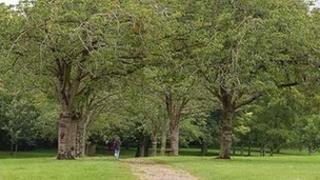 Plans are being considered to charge motorists for car parking in Bath's Royal Victoria Park.
At present there are about 320 spaces, but these are mainly taken early in the morning by commuters.
Bath and North East Somerset Council denied it was a money-making plan and said it was to encourage people to use it as a park rather than a car park.
A spokesman said lottery cash was being used to restore the park and part of the deal was to remove all-day parking.
"We want the spaces to be used by people enjoying the park.
"There will be a small charge, less than in the city centre... it's trying to encourage people [commuters] to use the park-and-ride and public transport," he added.
The authority wants to remove the current limited waiting provision in parts of the park and introduce blue badge parking bays, two-hour and four-hour paid-for parking.
A summary of the proposals is available on the council's website.