Somerset hunts postponed over equine herpes virus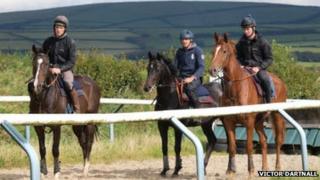 Hunts in Somerset have been cancelled due to fears of a virus affecting horses in the region.
Equine herpes virus (EHV-1) can cause inflammation of blood vessels in the spinal cord or brain.
Exmoor Foxhounds, Devon and Somerset Staghounds and Dulverton and West Fox Hounds have all cancelled this week's hunts as a precaution.
It comes as a stables in Devon was voluntarily quarantined after its horses developed the disease.
EHV-1 can be transmitted through the air from respiratory infection or by close contact between horses and, although it can be treated, in some cases it can be fatal.
Sir Richard Peek, chairman of Exmoor Foxhounds, said: "Until we know how this is going on, we thought it would be sensible to stay quiet for a couple of days and find out when the quarantined period has gone past and we might be able to go on again."
He said they were not intending to stop for very long.
"It doesn't seem right to be taking horses and hounds across ground where people might be unhappy that there might be a disease about," he added.