40 Commando Royal Marines get kit off for calendar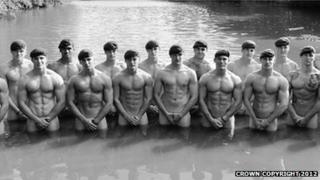 A marine serving in Afghanistan used his spare time to ensure a fund-raising calendar got to print.
For the last three years, marines at 40 Commando have stripped off for the calendar to raise vital funds for their families.
But this year, a tour to Afghanistan had put this in doubt as the full deployment training they needed meant they had little spare time.
Undeterred, the marines took it upon themselves to make the calendar without professional help at their Taunton base before they left.
The calendar's tight deadline meant the unit's photographer, Rhys O'Leary, used his free time to edit and send the photographs back from their base in Afghanistan so it would be ready in time for Christmas.
'Morale boost'
Usually organised by Go Commando, a charity which supports the unit's families while they are on deployment, the calendar raises money which is spent on things such as child care and social events. It also offers support for family members who look after marines if they are injured and need extra care.
In the future, it hopes to open trust funds for the children of those killed in action.
Last year, £20,000 was raised.
Debbie Howarth, from the charity, said: "Being a wife, partner or parent with a loved-one serving in a military unit can be extremely stressful and the reality of caring for an injured husband or partner is an unfortunate fact of life faced by many courageous women."
It is this tangible support which made the marines determined to have a calendar for 2013.
Go Commando had thought the tour would mean the calendar would be scrapped as they would have "more important things to focus on".
However they did not count on the enthusiasm of the unit's commanding officer, Lt Col Matt Jackson, who immediately appointed a young officer to "make this happen and get the job done in true Bootneck [Royal Marine] style".
He added that it would be a "fitting tribute" to his men if it was only made up of men who were to be deployed to the war-torn country.
Ms Howarth said: "I was in constant contact with them because they kept emailing me and saying 'how's it going?' so they all wanted to see what they looked like in print.
"It's been a fantastic morale boost for them."
'Very proud'
The unit, which is now in the middle of a six-month deployment, has seen one marine and three others attached to the unit killed. It is due to return in stages from March 2013.
The charity hopes to raise £50,000 from this year's calendar which they are well on their way to achieving. From a print run of 5,000, they had 1,000 pre-orders and on the first day of its release on Sunday they sold another 400 copies.
"It's a special one with a very raunchy front page," said Ms Howarth who attended the photoshoot "to make sure it was done in the best possible taste".
She added: "Yes there's the fun side to the calendar, but there is a very serious fundraising effort behind all of this."
One person who was nervous about the calendar's outcome was Sharleigh Kerr whose boyfriend features in the calendar.
When he told her he was doing it, her initial reaction was shock.
"When he first said it I was imagining if he went up-town and all the women would notice who he was and there's even parents at school who have mentioned it to me and it's just like I've got to walk to school with him and everyone'll be looking at him.
"I thought no way, I don't want people knowing what you look like with no clothes on but now, you know, it's for charity and I'm used to it," she said adding that she was "very proud".