Somerset carnivals: Gremlins and Gemini crowned winners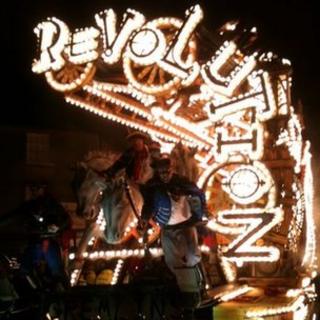 Two clubs have shared the top prize in Somerset carnival this year.
Gremlins from Bridgwater became feature champions for their US Revolution-themed cart, which depicted musket-wielding troops preparing to fight.
And Ilminster's Gemini Carnival Club took the tableau trophy for their Starlight Express entry.
John Owens from the Somerset County Guy Fawkes Carnivals Association said the carnival committees were impressed with all the carnival carts.
'Hell of a pose'
"We were wondering whether it wouldn't be quite so good because of the recession but all the clubs have pulled out all the stops," he said.
Mr Owens said on Gremlins' cart, there was not a point where something was not moving while Gemini's tableau - which is when performers stand completely still for the duration of the parade - was "something completely different".
Both clubs won the top prize for their respective categories in each of the carnivals that make up the Guy Fawkes Carnival circuit.
Gary Bealy from Gemini Carnival Club said they struggled this year, particularly with finding people to perform as they had to stand still while wearing roller-skates.
"That's a hell of a pose to hold, one of the most difficult ones we've done since we've been doing tableaux," he said.