Dimming street lights installed in Bath to save money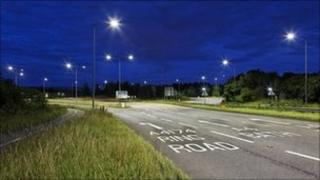 New LED street lights which alter their brightness according to the amount of traffic, have been installed in Bath.
Some 2,000 LED lights have been fitted by Bath and North East Somerset Council (BANES) following a successful trial of the scheme at Hicks Gate last year.
A further 2,000 conventional street lights are due to be replaced with the energy-saving lights.
The council estimates they will save taxpayers £200,000 per year and reduce carbon emissions by 800 tonnes.
Councillor Roger Symonds, cabinet member for transport, said the technology not only provided "safer roads because the lights are brighter" but will save "substantial amounts of local taxpayers money".
"With ordinary street lights they're either on or they're off with these you can dim them," he said.
"So what we're doing is during the night when there's little traffic around we dim the lights but they don't go out so there is still lighting there.
"This supports our priority to protect essential frontline services as much as we can, especially bearing in mind the soaring costs of energy contracts."
A full roll out of the LED lighting is expected to be completed by Spring 2013.