Weston General Hospital hit by norovirus bug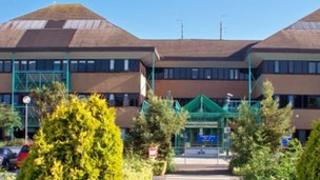 A ward at Weston General Hospital has restricted access following an outbreak of the norovirus winter vomiting bug.
All 11 wards at the hospital also have had patient visiting times reduced to an hour a day.
Weston Area Health NHS Trust, which runs the hospital, will allow visiting between 18:30 and 19:30 GMT daily. Only two visitors will be allowed per bed.
In a statement, the hospital said the new visiting hours will remain in place until further notice.
Highly contagious
In addition, children under the age of 11-years are being discouraged from visiting adult wards.
Visitors of patients receiving palliative care, and the maternity ward, are exempt from the restrictions.
The highly contagious norovirus causes nausea, vomiting and diarrhoea which usually lasts for between 12 and 60 hours.
Confirmed cases of Norovirus this year are currently higher than at the same point in any of the last five years, the Health Protection Agency said.