Cheddar Two: Consultation begins on new reservoir plan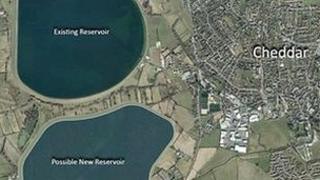 People living near the proposed site of a new reservoir in Somerset are being invited to have their say on the plans.
Bristol Water wants to build the new facility close to the existing reservoir in Cheddar to meet the future need for water in the area.
Cheddar was selected from a shortlist of five locations based on economic, environmental and geological grounds.
A planning application will be submitted to Sedgemoor District Council next year.
A website about the project has gone live and a newsletter will be delivered to all homes in Cheddar and Axbridge.
"This is an important step forward in the long procedure of consultation and planning," said Bristol Water spokesman Jeremy Williams.
"The website and newsletter set the scene for the real start of the process."
The company is also asking visitors to the area to fill out a survey to help it assess how the current reservoir is used and what ideas could be realised at the existing and proposed reservoirs.