Bridgwater Community Hospital: New foundation stones laid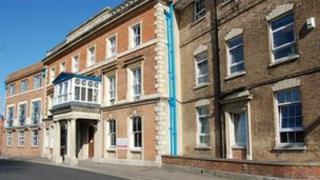 The foundation stone at the site of Bridgwater's new £33m community hospital has been laid.
The site off Bower Lane is still under construction and is expected to be completed in the spring of 2014.
Facilities include 30 in-patient beds, a midwifery-led maternity unit, a minor injury unit and X-ray and space for mobile scanners.
The design is a modern alternative to the town's current cramped and outdated hospital, which was built in 1813.
"The staff work phenomenally hard to deliver services to the best of their ability," said Judith Brown from the Somerset Partnership NHS Foundation Trust.
'Ahead of schedule'
"But if you look at the actual environment that they're working in, it doesn't really meet the standards that we would want for our patients."
Project director for NHS Somerset, Simon Corrick, said the build was going "very smoothly".
"We're slightly ahead of schedule, about a week or so. We're very pleased with it," he added.
It was announced in March that the hospital was to be rebuilt with a £16m government grant, part of a £330m investment for new NHS facilities across England.
The balance is being met by NHS Somerset and Somerset Partnership NHS Foundation Trust.