Weston-super-Mare street parking charges come into force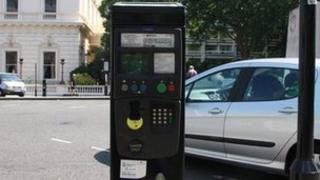 New parking charges have come into force on 27 streets in Weston-super-Mare.
Charges range from 20p for 20 minutes to £2.40 for two hours.
People who live on the streets where the meters have appeared can buy residents' permits.
The Lib Dems had attempted to "call in" plans for the residents' permits, but the Conservative-run council said the scheme would reduce congestion and be kept under review.
The council said it was bringing in the scheme in response to concerns raised by traders, shoppers and disabled drivers over parking congestion and widespread disregard of the current parking restrictions in the town centre.
It has not previously had the power to enforce restrictions on the roads, so it has historically been done by the police when resources allow.
The new scheme will be enforced by traffic wardens.
Councillor Elfan Ap Rees, deputy leader and executive member for highways, said: "All these measures are aimed at improving the availability of parking in the town centre, making Weston a more convenient place to visit.
"We are looking at encouraging longer term visitors to park off-street, leaving the on-street spaces available for those making short trips to the shops."
The scheme will operate from 09:00 to 18:00, Monday to Saturday.
Charges in the two short-stay car parks have been reduced.
The Liberal Democrats said the permits are virtually "worthless", only offering two one-hour slots per day, and that residents would be worse off with high bills to park outside their own house.