Kennet and Avon canal's history made into audio story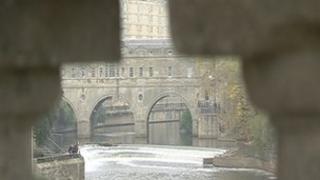 A dramatised audio trail explaining the history of 11 sites along the Kennet and Avon Canal in Bath has gone live.
The two-mile (3km) circular route includes Halfpenny Bridge and the toll bridge behind Bath train station that collapsed in 1877 killing 10 people.
It also takes in Sydney Gardens, scene of a historic dispute over the route the canal would take through Bath and Cleveland House.
Data can be accessed by using phones to scan a code at each site.
"The audio tour uncovers the hidden history of the Kennet and Avon Canal in Bath," said Sarah Brice, project manager at the Canal and River Trust.
"The sites are seen or used by thousands in the city each day, but very few people will be aware of their history or the role they played in establishing Bath as a major trading city and tourist destination."
Virtually derelict
The canal was built as a commercial transport route between 1794 and 1810 to provide safe and efficient travel between London and Bath, and via the River Avon, to Bristol.
It had its heyday between 1810 and 1840, carrying stone from Bath and bringing coal and domestic goods into the city.
It reached its trading peak in 1840 transporting building materials for the Great Western Railway.
The railway signalled the end of the canal's prosperity as it offered quicker journeys for goods and people.
Canal trade then gradually decreased until stretches became virtually derelict in the 1950s.
In the 1960s this decline was reversed and now the canal and its towpath is popular with walkers, cyclists, fishermen and boaters.