Cheddar's medieval cross repaired after taxi crash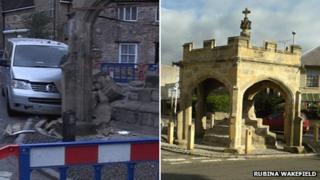 A 15th Century monument in the centre of a Somerset village has been restored, eight months after it was damaged in a crash.
Repairs had to be carried out on the market cross in Bath Street, Cheddar, following the accident in March.
Wendy Barritt, from Cheddar Parish Council, said that the work had been "finished to schedule" at a cost of approximately £60,000.
"We are extremely pleased with the results," she said.
"The stonemason and everyone involved have done a fabulous job," she added.
Protective posts
Wooden-clad metal posts have also been sunk into the pavement around the monument in a bid to protect the Grade II-listed site from future damage.
The three-way traffic lights and scaffolding put in place following the incident have also been removed.
No-one was seriously injured in the crash, which caused two of the pillars of the cross to collapse.
The parish council said the majority of the cost was met by the insurance firm of the taxi that hit the monument.