Somerset boy given shop to help develop social skills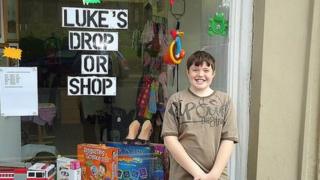 A 10-year-old Somerset boy has been given a shop to run by his grandmother to help develop his social skills.
Luke Westmacott, who has Asperger syndrome, was given the second-hand shop "Drop or Shop" in Frome by his grandmother Denise King in May.
Since then the 10-year-old has expanded the business and is now recruiting members of his family.
Mrs King, who runs Frome News, said: "I didn't think it would take off like it has - I'm very, very proud of him."
Mrs King handed over half of the floor space of her newsagents, Frome News, to Luke in May for a rent of £25 per month.
It offers people the opportunity to sell their used items, with Luke taking 25% of the sale.
"I started this shop when I was nine - it's been pretty hard work but pretty cool," said Luke.
Luke's mother, Lisa Coles, said she had dismissed the idea when it was first suggested.
"I said I've never heard anything so stupid in all my life - you cannot give a nine-year-old a shop," she said. "I've eaten my own words - he's done fantastic, he really has.
"I thought he'd be quite silly with it but he took it all in his stride. He gets ideas every single day, he loves coming in and talking to the customers and he goes home with a smile on his face every single day."
'Fantastic idea'
Ms Coles also believes that running the shop has helped her son cope with his condition.
"It's quite obvious he's got Asperger's, when you talk to him, so it really was about interacting with the customers, his listening skills and how he interacts, and it really has improved," she said.
"In fact everybody has said what a fantastic idea it is and how well he's adapted. I think [Lord] Sugar would be well impressed!"