Teacher hit on charity dance resumes challenge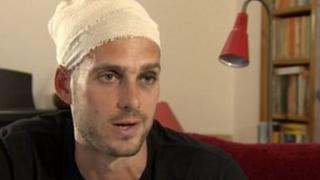 A teacher who was hit by a car while dancing from John O'Groats to Land's End is resuming the challenge.
Ben Hammond, 34, was dancing in a tutu through Polsham near Wells on 3 October when he was struck by a car driven by Alanna Rugg, 25, from Wookey, Somerset.
Both he and his support cyclist were hospitalised and the event cancelled.
Rugg pleaded guilty to three offences at South Somerset Magistrates' Court including drinking and driving and was sentenced to a community service order.
'Salsa and slide'
Mr Hammond, from Bradford-on-Avon, Wiltshire, will resume the challenge, which has 200 miles (320km) remaining, on Saturday.
The teacher, who is raising awareness of the situation in Burma, aims to reach John O'Groats by 1 December.
Mr Hammond, who is attempting the challenge this time without his support team, said he had been suffering from "tinnitus and scarring to his head caused by the collision".
"Since the accident I've had so many people contact me with messages of support that I'm determined to complete the challenge," he added.
"Recovering physically from the hit-and-run has been a slow road but now I'm eager to shimmy, salsa and slide my way once again through Somerset, Devon and Cornwall."
Yellow tutu
Wearing a neon yellow tutu, Mr Hammond had danced for some 1,000 miles (1,600km) before he was run over.
Rugg, who was arrested near the scene, admitted drinking and driving, failing to stop at the scene of an accident and failing to report an accident.
She was banned from driving for 28 months and ordered to carry out 120 hours of unpaid community service.
Mr Hammond and his charity have so far raised more than £35,000 through the Dance Britain for Burma challenge. He hopes to raise a total of £50,000 by the end of the year.