Parents of autistic children: Care worker changes scare us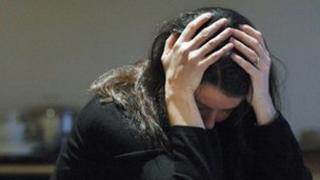 "I'm glad my wife's got the care support because about a week ago I nearly lost her… she wanted to hang herself in the apple tree."
Martin - not his real name - is in his 40s and is a parent and a carer.
His teenage son has Asperger's syndrome and the whole family has to cope with his violent, aggressive outbursts and manipulative behaviour.
Martin's wife has been at breaking point for some time and recently considered taking her own life.
She is not on her own. Many parents across Somerset say their own state of mind has suffered as a result of coping with their children's behavioural problems.
Some of their burden is eased by two full-time carers' assessment staff who help families like this across the county.
They are mental health specialists but are solely there to promote the wellbeing of the parents, teaching them how to cope and manage their children's behaviour.
'Easily swallowed pills'
Judy has a teenage son suffering from severe depression.
"When I first met my carers' assessment worker, it was just so easy. All I ever did was cry.
"She was so lovely and I just burst into tears but she knew exactly what was wrong and that made a huge difference to me," she said.
I met these parents at a monthly support session they hold in Glastonbury.
For some of the mums and dads, going to this group is their only night away from home.
Around tea and biscuits, some break down in tears as they discuss the difficulties of dedicating their lives to looking after their mentally ill children. The isolation, the loss of career, the constant mental and physical strain of sleepless nights.
The conversation then moves on to their own health. Many of these parents now suffer with depression and anxiety.
One parent tells me she could have "easily swallowed a bottle of pills on Christmas Eve, and not bothered getting up".
Another lives a life of split shifts in order to give round-the-clock care to his 10-year-old daughter.
He takes the night shift and sleeps through the day. His wife takes the day shift. Neither of them can work, they have not been on a holiday in five years and he says his wife has, at times, been suicidal.
'People will crack'
There is one woman at the meeting who quietly sits in the corner with her partner. He speaks on her behalf. She has been unable to talk for 19 weeks; a physical symptom of the mental stress of being a parent carer.
Tonight, the atmosphere is especially fraught. The group has been told the support they have been getting for the past few years is to be discontinued.
Two carers' assessment workers have helped these families for the past three years, as part of a trial programme commissioned by Somerset County Council and delivered by NHS Somerset. But this level of support will finish at the end of November.
Instead of two people who focus only on mental health issues, Somerset County Council says the responsibility will be taken on by four support workers on a part-time basis.
That is something that frightens these parents.
Single mum Kim is worried that the help she gets in the future could be much less specialised.
"Without having someone there you can text or phone, without that support, people will crack," she said.
'24/7 job'
Tom (not his real name) is one of the fathers at the group.
"It's only when I see my carer that I can suddenly unload everything. I can then recharge and face it all again."
For him, the possibility of having to form a close relationship like this once more is too much for him to think about.
Some mental health professionals have questioned the decision not to extend the trial programme.
Carers UK said: "Parents of young people with long-term mental health problems and illnesses are among the most vulnerable of carers.
"They have a 24/7 job and anxiety which, without proper professional support, will usually mean health problems for themselves, too."
But NHS Somerset says that parents and children will still be looked after as part of a "reconfiguration of support services to young people and their carers… support for carers will be organised differently under these new arrangements but continuity of the service will be maintained".
But single mum Elaine, who has two children on the autistic spectrum, is not convinced that things will be the same.
"The only way we are coping is because we've got these two carers' assessment workers.
"Without them, we might fall apart again. Then you feel like you're failing your child."