Bridgwater leisure centre opens as part of school revamp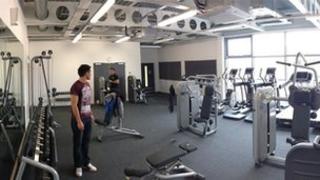 A new leisure centre which forms part of a £20m school rebuilding project has opened in Somerset.
It is located on the Robert Blake and Elmwood School site in Bridgwater and was paid for using Building Schools for the Future funding.
The centre includes a gym and exercise studio, four-court sports hall and a new grass football pitch.
It is designed for use by students and the community and will be managed by a non-profit making trust.
Tim Nightingale, of leisure trust 1610, said it will "help to make Bridgwater one of the best-equipped towns for sports facilities in the South West".
He said: "This latest investment in leisure facilities will not only enhance the profile of Bridgwater but make a real difference to local families, staff and students at Robert Blake and Elmwood."
The project follows the opening of a £2m leisure centre at nearby Chilton Trinity school in November 2011.
Work to rebuild Robert Blake, Elmwood and Chilton Trinity schools began in September 2010.