Weston's sand sculptures bulldozed after exhibition finishes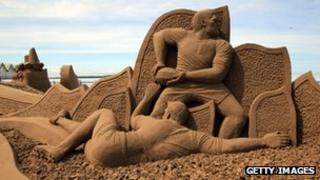 More than 30 sand sculptures on Weston-super-Mare beach which survived high winds and vandal attacks have finally been flattened by a bulldozer.
The art had been designed to withstand rain and 60mph winds but "freak gusts" in June damaged 10 of the exhibits.
Then in August vandals decapitated 15 models including one of the Queen which was part of the Diamond Jubilee celebrations.
The festival attracts award-winning artists from all over the world.
More than 4,000 tonnes of sand had been moved down the beach, mixed with water and compacted before being hand carved by the team of 15 international artists over nine days.
'Brainstorming already'
One of the sculptors, Nicola Wood, said despite the "worst summer weather" for some time 70,000 people had visited.
Ms Wood, who lives in Leicester but has been staying in Weston over the summer, said she was now looking forward to next year's event.
"We've been brainstorming already for a theme and people have been suggesting ideas on Facebook and Twitter.
"This year we had a theme of fun and games and people told us they liked the interactivity of some of the exhibits so we'll look at ways of increasing that next year," she added.
Earlier in the year the festival's future had been under threat after North Somerset Council said it could no longer afford to fund the event before new sponsors were eventually found.