Somer Valley Food Bank in volunteers plea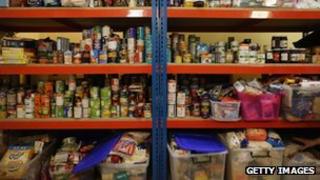 A charity has appealed for 100 volunteers to support a food bank due to open in Somerset in the new year.
The Salvation Army is to open the Somer Valley Food Bank aimed at people in Midsomer Norton and the Radstock area.
Major Sharon Robinson from the charity said: "People who you would not expect to be in financial trouble are providing for their kids but are going without for themselves."
Volunteers are needed to collect and sort food.
The charity has said volunteer are only needed for up to two hours a week.
"The churches and the agencies are putting this together - but not everybody in the church works and the average age of the congregations is getting older.
"So to try to get the churches and groups - and the 10 people on the food bank committee - to keep it going would be an immense task and we won't have the resources to be able to do it," added Major Robinson.
An information session for prospective volunteers will be held at Midsomer Norton Methodist Church at 19:30 GMT on Tuesday 6 November.