Cotswold Way marker to be unveiled in Bath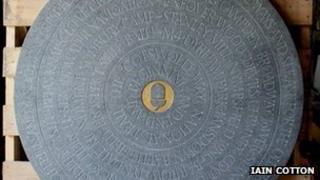 A stone which marks the beginning and end of the Cotswold Way national trail is to be unveiled in Bath.
The circular disc of blue limestone has been set into the pavement outside Bath Abbey.
It was commissioned by the Cotswolds Conservation Board, Bath Abbey and Bath and North East Somerset Council.
The stone features place names from along the route and was hand-carved by local artist Iain Cotton.
Mr Cotton said: "I'm relieved that it's all gone very well. I feel very proud of it.
"It's been a fantastic opportunity to have the chance of making an object for a high-profile world heritage site in my home city, and for an artist, it doesn't get better than that."
The Cotswold Way is a 102 mile (164 km) national trail between Bath and Chipping Campden in the Gloucestershire.
It was launched in 2007 and attracts about 150,000 walkers every year.
James Blockley, National Trail Officer for the Cotswold Way, said: "This project is the culmination of over four years' group effort, and it will be just wonderful for us all to see it unveiled at long last."
The 1.4m (4.5ft) diameter stone features the Cotswold Way acorn symbol at its centre, and can be found in the abbey churchyard near the Roman baths.