Movember supporters grow grass moustache in Somerset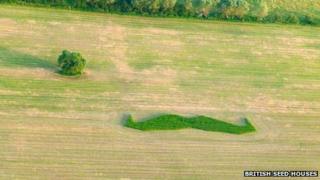 A father and son have grown a giant grass moustache in a Somerset field to support men's health charity Movember.
During November men are encouraged to grow a "Mo" - or moustache - to raise awareness of issues around men's health.
John Gilbert came up with the idea and his son William grew the moustache, which measures 120ft (37m) by 40ft (12m).
It was shaped using an agricultural mower then trimmed with a strimmer.
It was grown in a field near Wedmore where grass was being grown for silage.
"We began with a scale drawing and then marked the area out with fencing stakes," said William Gilbert, managing director of British Seed Houses Limited.
'Certainly a first'
"We then mowed it into shape using an agricultural mower and did the final trimming with a strimmer. I was pleasantly surprised at how well it worked out."
The idea for Movember came from Melbourne, Australia in 2003 when a group of friends decided to grow moustaches during November to have some fun while raising awareness of men's health.
Within a few years the campaign had spread across the world.
The UK got in on the act in 2007 when about £1m was raised for the main beneficiary, The Prostate Cancer Charity.
Participants start with a clean shaven face on 1 November and do not shave their top lip until 30 November.
Jon Sim, community manager for Movember, said: "The giant grass moustache is certainly a first and gets across a serious message in a creative and fun way."