National Grid urged to use underground cables in Somerset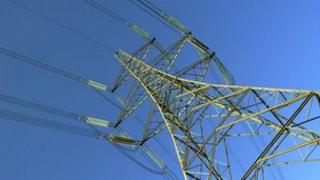 Undersea cables used to send power from wind turbines in Ireland to Wales could be copied in Somerset, an MP has said.
Tessa Munt has urged the National Grid (NG) to consider using the new technology in its plans to install new electricity lines in Somerset.
The Lib Dem MP said the system used in the Greenwire project could be used in Somerset rather than pylons.
Ms Munt said: "Cables that go undersea could be cables that go underground from Hinkley to Avonmouth."
The NG has said this form of technology is not appropriate for Somerset.
'Both directions'
In November 2009 it announced plans to install pylons between Hinkley Point and Avonmouth.
The new power lines would be needed to carry electricity from the proposed new nuclear power station to connect to the network in Avonmouth.
But after widescale protests from affected communities, the electricity company suggested putting some sections of cable underground.
Ms Munt, MP for Wells, has called for the whole route to be put underground or undersea to protect the Somerset countryside.
But the NG has said the line from Ireland only carries electricity in one direction to Wales.
The line between Hinkley and Avonmouth would need to fit into the main national system where power goes in both directions, the NG said.
Peter Bryant, senior project manager, at the NG, said: "The proposed HVDC project is the most appropriate way to provide a power connection between Ireland and Wales.
"However, unlike National Grid's Hinkley project it will not form part of the integrated National Transmission System.
"A subsea HVDC link was investigated for use on the Hinkley Point Connection but the technology was not deemed appropriate."
The firm will announce the details of its latest proposals on 6 November.