Secret World wildlife charity holds anti-badger cull walk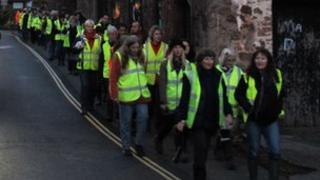 About 100 people have joined a protest walk in opposition to the planned cull of badgers in West Somerset.
Wildlife charity Secret World and Somerset Badger Group organised the event in Dunster.
Secret World founder, Pauline Kidner, said she was "amazed" by the response following a recent meeting.
Organisers used the walk to promote the use of badger and cow vaccinations instead of a cull. Farmers say badgers spread tuberculosis.
Mrs Kidner said the government petition against the badger cull has nearly reached 170,000 signatures.
The chairman of the Somerset Badger Group, Adrian Coward, announced a full debate will now go ahead on 25 October in the House of Commons.
Mrs Kidner said: "With the letter sent to the government from over 30 eminent scientists including the chief veterinary government advisor calling for a halt in this cull and huge public response, surely they will start to see sense.
"This cull is being driven purely by political force and not science."
Protesters claim the pilots in Somerset and Gloucestershire are too small to provide useful data and risk becoming "a costly distraction".
They also believe vaccinating badgers would be a more effective long term solution.
Defra has said the action is necessary to protect cattle from bovine TB.
The government said that last year 26,000 cattle in England had to be slaughtered after contracting the disease.