RHL Beach race in Weston-super-Mare celebrates 30 years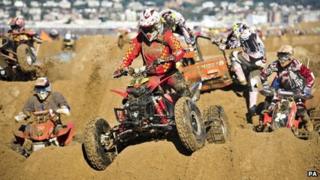 Thirty years of off-road racing on Weston-super-Mare's seafront is being celebrated.
RHL Beach Race at Weston has grown to become one of the biggest event on the UK off-road calendar.
Gareth Hockey, director of RHL Activities, said this year's event was "a fitting celebration of three decades of racing on the Weston seafront".
Mr Hockey said of the three-day event: "We've seen probably some of the best racing in years on the beach."
He added: "We've also gone to town with the off-track activities, to ensure that there's something for the whole family and that the 30th anniversary of the beach race will be remembered as a very special event by everyone, whether that are racing or spectating this weekend."
New safety measures were introduced at the 2010 event following a pile-up in one of the previous year's races.