Somerset Chamber of Commerce: Somerset firms losing out on Hinkley trade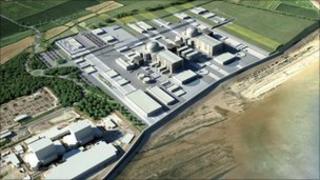 Firms will lose out on potential trade created by the Hinkley Point power plant build unless they register an interest, business leaders have warned.
So far 1,000 firms have registered interest with EDF Energy but are mostly from the West Somerset area where the plant is planned.
Chairman of the Somerset Chamber of Commerce (SCC) Rupert Cox said: "We're saying be prepared, get involved, understand the scale of the project and how you can fit in."
The government is expected to announce its final decision on the build next year.
'Very surprised'
Nuclear developers EDF Energy has set up a website with SCC.
The website enables firms to register interest to bid for contracts on the supply chain side of the nuclear build.
"Certainly in the south of the county there are a number of counties that we know have the skills and the capability to support the project that haven't yet been enthused," Mr Cox said.
"There is certainly an issue in Somerset that it's been very Bridgwater-focussed at the moment if you're not in that particular area, it's of little significance to you in business.
"But the nuclear power station will create another 1,000 jobs for the next sixty years," added Mr Cox.
One business which has signed up is a heating and ventilation company Powermatic, from Ilminster, south Somerset.
Internal sales manager Sam Dare said: "It's not just the manufacturing and the engineering, it's the service support the laundry, the caterers - there is such a wide variety of industry requirements that are going to be benefiting from this project.
"I am very surprised - it's had an awful lot of promotion and I don't understand why a lot of local businesses are not keen to support it."
EDF Energy is the developer behind the nuclear project.
The firm has said it is addressing concerns that is has only focussed on Bridgwater, the largest town nearest to Hinkley Point.
David Eccles, from EDF Energy, said: "Of course we'll stimulate as much interest as we can.
"People of course will travel and will be prepared to come where good jobs are - that's why we want to give local people and young students the best opportunities to compete for those jobs."