Elk stolen from Somerset farm 'for meat'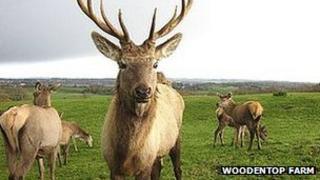 Six elk have been stolen from a farm in Somerset, possibly for their meat, police have said.
Officers said thieves had cut a hole in a boundary fence at Woodentop Farm, near West Coker, and may have used dogs to herd the animals into a truck.
The wapiti elk, one of the largest species of deer in the world, were taken between 4 and 5 October.
PC Jackie Poole said she was interested in speaking to anyone who had been approached about elk or elk meat.
She added: "This is an unusual theft and would have required a vehicle, and probably quite a bit of time, to complete.
"It is possible that dogs were used to help herd the animals.
"I would ask people in the area at the time to cast their mind back and see if they remember seeing anything suspicious.
"I am particularly interested in speaking to anyone who has been approached about elk or elk meat or anyone who saw a vehicle in the area which was capable of stealing these animals."
Woodentop Farm is a rare breeds organic farm, breeding and rearing wild boar, bison and elk for gourmet sausages.
Paul Richards, who runs the farm, said: "Luckily we were on site and discovered the fence had been cut.
"We keep wild boar and bison here and if they'd got out it could have been disastrous."