Badger-cull protest must not be part of 'campaign of intimidation'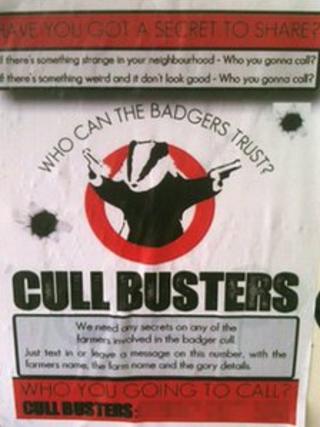 Posters asking for details of farmers involved in a badger cull should not be used as part of any "organised campaign of intimidation", Defra has said.
Last week a badger cull licence was issued in Somerset in an attempt to stop the spread of TB in cattle.
The posters give a mobile number which belongs to protest group Stop the Cull - although it denies printing them.
Defra said anyone objecting to government policy should use legitimate channels to get their views across.
'Nobody wants cull'
"....Any organised campaign of intimidation is unacceptable," Defra said
A spokesman added: "Nobody wants to cull badgers. But no country in the world where wildlife carries TB has eradicated the disease in cattle without tackling it in wildlife too.
"The science is clear, and experts agree that provided culling done in the right way can lead to a reduction in TB in cattle.
Protest group Stop the Cull said although it had not printed the posters the group agreed with the sentiment.
He added although the group had no intention of publishing details of farmers' lives, if they were involved in a cull their businesses would be "put under the microscope".
'Worse disease gets'
A spokesman for the National Farmers Union in Somerset said he believed the cull was the best way to get on top of the disease.
He said: "I think the farmers' resolution to try to control bovine TB far outweighs what these actions will make people think about.
"The more we stop and prevaricate the worse this disease gets and the more that it spreads so we do need to be getting on top of it."
Last week a cross-section of interested groups and individuals signed a declaration against the cull which was sent to Environment Secretary Owen Paterson.
The letter, signed by people including vets, several farmers and Gloucestershire Wildlife Trust, says the group is "convinced" that vaccination is "the only way" to control the disease and avoid the "devastating and costly" current Bovine TB policy.
Bovine tuberculosis (TB) is an infectious disease of cattle. It presents a serious problem for the cattle industry, causing financial and personal hardship for farmers.
The disease is caused by the bacterium Mycobacterium bovis (M. bovis), which can also infect and cause TB in badgers, deer and other mammals.