Weston-super-Mare street parking charges to start in November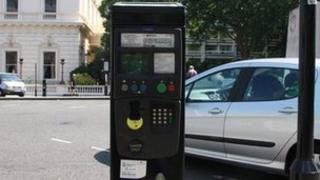 More than 40 pay-and-display machines are being installed in the centre of Weston-super-Mare ahead of on-street parking charges being introduced.
The Conservative-run council plans to start the charges in mid November - despite a failed last minute challenge by the Liberal Democrats.
A council spokesman said the move would make spaces more easily available for shoppers.
Charges start at 20p for 20 minutes to £2.40 for two hours.
Increase space turnover
Signs which show the number of space in off-street car parks are also being installed at the same time.
Residents living in the scheme area will be able to apply for a permit allowing extended parking on-street between 17:00 and 10:00
Each household in the area will be able to buy up to two permits, the first at £31 and a second for £62.
Alternatively, there will be a £130 annual permit for residents in the zone offering long stay parking in Locking Road car park.
Council officials insist the charges are needed to increase the turnover of parking spaces rather than to make money.